Guitar Effects Review
Guitar effects. Below are the top 5 guitar effects currently available.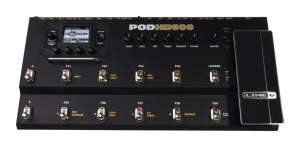 "Have every great guitarist in the worlds' sound, including your own(but better) at your toe-tips, with no amp. or effects loops."

Feature:
It came with a USB cable so you hook up to a coputer and stay on top of the latest sounds from the company and a forum of other players that work up new sounds on it. Also you can use an edit mode to get inside and run it/edit it/and basically SEE everything that you're working with. TOO COOL! It has all kinds of outputs, effects loop(not that you'll need it),CD/MP3 player input, extra volume/expression pedal, USB/Midi, Variax, AUX in, you can even plug a mic into it and it will create harmonies. My personal favorite feature is all the space they give to store and write sounds of your own or move factory sounds to, to make patches more readily available no matter where you are in it at the moment.

Quality:
I find that it's made like a tank. Very solid, durable. Finish-perfect. Not a single flaw. Reliability-I get the same sounds consistantly everytime I turn it on. I believe this unit will last quite a long while, though, nothing lasts forever, I would love to have a 2nd one, just in case, but I don't worry about it, at least not now, and probably won't have to for quite some time. I think it would hold up just fine "on the road"especially with just minimal protection. Worst aspect in quality is the small switches beside the volume/expression pedal for Amp./Line, Pad/normal, and ground lift. It's to be seen how long it will last, because I've never had a unit built so well, tough, and solid as this, and I've been playing live and recording for 45 years. Too bad I've had to wait this long to get a piece of gear this nice. Thanks, you are appreciated.

Value:
I think this unit is well worth the money I paid for it and then some. Shhhhhhhhh. Don't tell anybody, I don't want it to go up in price. It's got more stuff in it than what you pay for, by far, and it's all in one great little unit.

Desirability:
I've been making good music without it for over 45 years now, and I love your new product, but, it is only a practical addition to my set-up. (And, I have to tell you that I don't really appreciate the above question about "what I would be willing to pay for it", I've been poor a lot during my career and have struggled to survive, I appreciated not having to pay an arm and two legs for this piece of gear, and if the price goes up on it, now, I'll be very dissapointed in the company)

Sound:
The sound is great. It sounds like you're playing through the effects and pedals and AMPS (models) that you pull up in the patches. The quality of the sound is excellent. It responds to everything I play, I don't feel like I've had to slow down at all for triggering in any of the patches. The sound is very expressive. The volume/expression pedal is very smooth from bottom to top. It has more than I expected in sounds, way more, and the sounds are top shelf, and I can make it sound any way I want when it comes to the sound of a modern day guitar, and will even take you back, many years, if that's what you're looking for. It is compatible with any style of player. It sounds great by itself, just sitting around running through the sounds, I've been more inspired than I have been in years to write using some of these sounds. Incredibly inspiring. Some better than others? It just depends on what you're looking for. I can write anything I'm looking for into it, with ease, after learning the nature of the beast. I use it straight into the P.A. and don't even have to use an onstage amp. anymore, monitoring through a headphone amp., the other guys on stage just slip as much as they want of my guitar into their monitors, that's working out well. Even directly into the P.A. it sounds like I'm playing through an amp., you can feel the air movement. In that respect, it doesn't sound dry or sterile, I throw in some tube stuff, and I'm in. I use it with my digital recorder, and I've been able to do things quicker than groping around for sounds like before. If you're looking for something that's not there, it just takes a few minutes to write it, and save for next time. In my live situation, I've had people ask what the band did to upgrade their sound, I say, nothing it's this little unit that I can throw under my arm and carry back to the house and record with. It has added so much class and versatility to the sound of the entire band that the crowd has recognized it. I don't even have to use any effects through the effects loop to get the sounds I need, and I am a very demanding player. Things have to be just right for me to be happy with my equipment, and the overall sound of the band, just ask me band-mates, they'll tell ya' all about it. I don't feel that I'm missing anything using only this unit and a guitar. There is, however one thing I would change about this piece of gear if I could, and that is the differences in volumes of different patches. They do vary somewhat, it's not extreme, but it would be easier if the patches were more consistant in volumes, though you can change them without losing any quality of sound or changing the sound of a patch, it just takes a few clicks of a couple of buttons, that's all. This is the best piece of guitar gear I've ever bought/used/heard. If it ever breaks down, and can't be fixed, I'll buy another one. Hopefully, that will never happen, it does seem to be built extremely well, solid, tough. Wow, sounds like-I'm in LOVE.

Ease of Use:
I must admit being overwhelmed at first, but it didn't take long till I was comfortable with using the unit. It's easy to get great sounds from it, they're in it already, go looking and you'll find them. Need something else? Just write it and save it. Once you figure it out it's easy to change their patches to suit yourself. Compatibility with other gear, P.A./recording console/Amp., is great, especially with the Line/Amp. switch and the input pad switch. Perfect! With a little reading of the manual, it didn't take anytime at all till I was in it with both feet. It doesn't sound sterile like some units that do this thing, very warm. It's so playable that the first three weeks I spent with it, my fingertips stayed sore, and I play a lot. This was out of pure inspiration and not just because I had to play it to learn it. It made me want to play, EVEN MORE.

Support:
So far I've not had any problems that warrented contacting the company.

Overall:
I don't know how long it will last, I'll probably be satisfied with it till it goes down, then I will replace it(unless the price goes up). Only two reasons I would use another product by another company, 1; someone came up with something better(don't see that happening for a while) 2; the price goes up.
Usual Price: $500

Manufacturer: Line 6 | Categories: Guitar Amp Model Effects
For more reviews CLICK HERE!
To buy one CLICK HERE!

"This unit delivers ! The best guitar console ever!"

Feature:
It has 2 pedals which is very convenient for volume control and effect module control and 2 tubes which will heat up your tone. I like the ability to program your own patches and assign them to any of 5 pedals in a given bank. This way you can custom tailor your tone differently for the different riffs of your song. It's almost impossible to do this with stomp boxes.

Quality:
Top notch. Built like a tank and very appealing design at the same time. Black with chrome. Very nice high quality looking. Although I always handle it with care because of the tubes. But that's normal, if you want any effect unit to last you can't abuse it. I'm sure that when you get the hands on this unit you'll handle it with care as well cause it looks so nice and you don't want any scratches on it.

Value:
This unit is worth more than 2000$. No kidding. Try buying each individual effect module separately and you'll see how much you'll pay. This is the best guitar pedal in the planet. Period.

Desirability:
This unit is very appealing for all its features - 2 pedals, 2 tubes, 9 pedals, USB & MIDI plugs and the design is excellent. It looks very nice. It does bring people's attention.

Sound:
The sound quality is amazing. Forget individual stomp boxes which are noisy. This unit is noise free even if you use a high gain preamp module because the builtin ZOOM NOISE REDUCTION is top notch.

Ease of Use:
Ease of use is good. But you do have to go throught the manual in order to understand how this unit works and how to get the best sound quality out of it but that's understandable. There's a lot of effects and parameters in this unit but they aren't hard to learn. Just take your time and in a few weeks you'll master the use of this unit.

Support:
I did have a problem when I first bought my unit, one of the tubes were unplugged. I returned the unit and they sent me a brand new one! Excellent support!

Overall:
I'm 110% satisfied and I don't need any other additional pedal. Not even an amp. I can just plug it to the mixer of the PA or recording studio. What I like most is the flexibility of this unit. I would probably like to be able to store the tube parameters in the patch but then this unit would be perfect. It doesn't need to be perfect, it's already excellent.
Usual Price: $299

Manufacturer: Zoom | Categories: Guitar Multieffects
For more reviews CLICK HERE!
To buy one CLICK HERE!
"Your effects pedal search ends here!"

Feature:
The features are great. How can you complain about having every effect under the sun for $500? The only reason I gave this a 9 instead of a 10 is because you can only use 4 effects at once and not all 12. I'm sure it's likely a processor issue, and to get a stronger processor would mean a higher price though so 4 at once is still pretty good. Even with that said though, this pedal is a steal at $500. It's got a every effect you could ever need. EVER! and it's also got a looper and a tuner. Also, Line 6 updates the firmwear for this thing from time to time (for free). They add features, and even add more effects. Like the Pitch Shift filter modeled after a Digi-Tech Whammy pedal that was included in the latest upgrade. They really listen to suggestions from users too. If you have something you want to see in the future, just mention it to the people at Line 6 and there's a good chance you might see it in the next update. To update, you'll need a MIDI to USB adapter. Another really cool feature... It has 2 expression pedal inputs and you can use your expression to control any parameters you want. You can even have it control multiple parameters in opposite directions (Eg. Turn your gain up and your bass down at the same time)

Quality:
Seems to be built very solidly. No plastic parts other than the knobs and screens, but everything you step on is solid metal. Very easy to transport, and it's really nice to have all your effects in one place rather than having to carry around a bunch of pedals, cables, and adapters.

Value:
You will not find a better pedal for a better price. The TC Nova System is pretty close I guess, and they're the exact same price, but if you ask me the M13 is a superior product. If you want something better than the M13, you'll have to shell out well over $1000 for a TC G System or something of that nature, but even that pedal doesn't have any gain pedals in it. Get this pedal!

Desirability:
It looks real cool. Looks a lot like a Voodoo Labs MIDI pedalboard and costs about the same. BUT it actually has all the effects built in. It's not just an expensive bunch of buttons. The multiple coloured LEDs and all the switches make it look like it belongs on a space shuttle. It looks especially cool on a dark stage. Don't be fooled though; this isn't a matter of fashion over function...this is fashion AND function.

Sound:
Sounds great. A lot of the pedals are modeled perfectly. My only complaint is that the Compressors are a little weak. I have since gone out and purchased a TC Electronics Compressor pedal and use my M13 for everything else.

Ease of Use:
The thing is so easy to use that you will never even need to print the manual from the Line 6 site. Just select your effect, turn the knobs (I love that it has the knobs like a real analog pedal!) and your preset is saved automatically. You can turn the auto-save off if you want to, but why would you? I would still recommend printing the manual as it will show you a lot more than you ever thought was possible with a multi-effect pedal. Even the more advanced features that you'll find in the manual are super easy. So easy, even a caveman can do it....wait I think that line is taken already.

Support:
The Line 6 website has a great support forum dedicated to the M13 also for all its users. If you have any questions or problems, go there, and chances are that your question will be answered within a couple of hours. I have never needed any repairs or had any problems, but have still used the forum for general questions and exchanging cool ideas with other users. If you get the pedal, check out the forum.

Overall:
I don't imagine looking for another product all together. I did mention earlier that I found the TC compressor pedal to be better than the compressor models in the M13, and I could maybe see getting frustrated with being limited to only 4 effects at once. With that said though, I rarely even use 4 at once, so as long as you place your effects strategically, where you don't have two that you'd like to use at the same time situated in the same columns, you'll be fine.
Usual Price: $500

Manufacturer: Line 6 | Categories: Guitar Multieffects
For more reviews CLICK HERE!
To buy one CLICK HERE!
"All I can say for the Price,You will be Amazed as I was as I opened it and saw the Quality of this Product,But Just be Patient b"

Feature:
So many Features it will take me awhile to learn what all this has to offer!

Quality:
Great Quality Made Strong and Durable,I would Suggest the Road Runner Pedalboard all in 1 Gig Bag with this It fits Perfect!!!!!!!1

Value:
The Value of this unit is Worth More than what anyone is asking it's Really Worth the Retail Price ,But hey I am Glad to have Gotten it for a Little over $400 Plus Tax and I have the 2 Year Gold Warranty on it Plus Manu. Warranty. Great Price!!!!!

Desirability:
I have it and will Have it For Many Many Years to come Hopefully as Long or Longer than My RP1. I Plan to get the Digitech Time Bender to Add with this.Ihave watched a Demo and it is my Next Digitech Purchase!!!!!!!!!

Sound:
All I can say is I have owned this Now fro about 3 weeks,and I t is Flawless I have some much to learn about this,My Last unit was the RP1 and it had Editing and about 160 or 170 Effects on it.I never dod Fully Figure it out in 15 years But it was in it's Last legs,So I bought this and I Love itand will have it for many years to come!!!!!!!!!!!!!I will say to Anyone who wants to purchase a Guitar Effects Unit ,This is the One to have it has it all!!!!!!!!!!Thank Chad M. Bedwell

Ease of Use:
I would Rate it 10 the Best ,But I am still working on the Editing part of this unit at the moment and there is so much to do,I will be at this for awhile to get the Sounds I really Like!!!!!!

Support:
I have Been a Digitech MAN for over 25 years Now and I Love there Products,I wouldn't Have Nothing else...
Usual Price: $400

Manufacturer: DigiTech | Categories: Guitar Multieffects
For more reviews CLICK HERE!
To buy one CLICK HERE!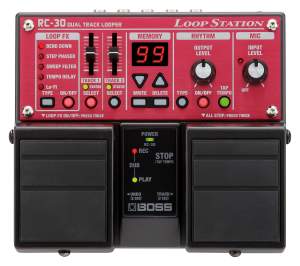 "It is a great rc-30 looper and if you like good quality you better buy this one. You won't be sorry. One thing for sure it is bu"

Feature:
It didn't come with anything,but software, which is ok for the price. the auto looper comes in handy, and it takes a little time to get a true loop with no spaces. All and all i think boss did a good job. everything is good and up to pare.

Quality:
It is built like a tank I don't use a backup. Take your time and learn the in's and outs. I still wonder where the deleted mistakes go because sometimes i make a lot of them when i cant get something right. But so far so good. I have owned it since june 2011.

Value:
I think it is a good price. worth every penny.

Desirability:
I think it has great sex appeal. It makes me a better guitar player on my leads. It is great looking and i like the color and the way it lights up. It is a A plus in my book. GET ONE.

Sound:
sometimes I have trouble getting one sound louder than the other. I wonder where all the deleted music or mistakes go. I hope not in the hard drive. over all it is a keeper.I use it 3-5 times a week.And I play for hours when i use it. I run it through a mustang 3 so i look for the clean channels.

Ease of Use:
It has a good sound. I run my cry baby wa wa pedel and my boss distortion peddel throught it. It is a no brainer to use, just read the manual and you will be fine.

Support:
no so far i have not had a problem with it

Overall:
I will use this for a long time. I will always have good words about this product. I will not bad mouth other products. I had a few loopers and I didn't like them. But fell in love with this one.

Usual Price: $299

Manufacturer: Boss | Categories: Guitar Samplers
For more reviews CLICK HERE!
To buy one CLICK HERE!